Our panel of judges from around the world considered the evidence, and then voted for these as the best Australia had to offer the world of rock and metal in 2016...
10. Naberus – The Lost Reveries (Eclipse Records)
'Good things come when you least expect them'. Thus spake our very own Paul Kerr in his review of Melbourne-based purveyors of aural filth Naberus; And certainly this release, put out through American label Eclipse Records snuck up on us as the year drew it's way to a weary end.  Furious modern metal is the order of the day, delivered with the sort of cocksure piss n'vinegar you'd expect from a bunch of young bucks on the up and up… but containing none of the blithe lack of attention to detail you might also expect to be in attendance from said posse. Self assured yes, maybe even a touch in-a-good-way arrogant, but every inch a contender, Naberus is definitely a name to follow for the future – Scott Adams
9. Airbourne – Breakin' Outta Hell (Spinefarm)
'Third-rate AC/DC for punters without the sense to get off their arses and seek out a Rhino Bucket album'.
Strong words indeed, direct from the mouth of Sentinel Daily editor Scott Adams. But thankfully SD is still just about a democracy, and common sense prevailed in getting Airbourne's fourth studio album into our top ten of the best Aussie albums of the year. The blueprint's well known for sure, and the themes may be getting a little familiar, but there's no doubting Airbourne's significance on the World Stage or their commitment to the rock n'roll/booze interface. Breakin' Outta Hell might only re-confirm what we already knew, but it does it bloody well. – Gavin Strickmann
8. Plini – Handmade Cities (Own Label)
If the lo-rise success of Naberus made us prick up our ears, then the globe-devouring 2016 triumph of Sydney songsmith Plini had us choking on the proverbial weetbix in surprise at just how quickly he's become a household name. At least in those households where djent is important. Handmade Cities is a fabulous collection of jazzy eclecticism – kinda like Russ Freeman's Rippingtons recalibrated for metal-loving millennials – packed with enough fleet-fingered fretwork to keep the metalheads happy whilst also keeping those who like something a little more melodic happily supplied with oodles of the good stuff. A surprise certainly, but a deserving one nonetheless. SA
7. Toxicon – Purge (Own Label)
Back in August when I reviewed Purge for Sentinel Daily I gave the album a welcoming review with a few qualifications in my own mind; I'm not much of a fan of 'modern' thrash if truth be told, but there was enough quality about Purge to keep an old lag like me interested and then some. Three months later, I've gotta say that Purge has really grown on me. Powerful, insistent riffage runs amok all over the record, chugging like there's no tomorrow in glorious (it must be remarked upon) old-school style on unrepentant rockers like Immersifier; And even when the band do get all twenty first century it's done with real commitment and (technical term coming up) bollocks. Consequently you won't hear many more satisfying thrash albums all year. Michael Stronge
6. Elm Street – Knock 'em Dead… With a Metal Fist (Elm Street)
When Sentinel Daily's Scott Adams interviewed Elm Street main man Ben Batres about Knock 'em Dead… back in the middle of the year, the earnest guitarist said 'it's everything we've got across ten songs' and really that sums up this raging slab of heavy metal thunder very well indeed. If you already knew Elm Street before listening to the record you'll know exactly what Batres meant; if you're coming to the band afresh then it is indeed a sort of metallic mission statement, a credo designed to inform the listener exactly what Elm Street is all about. Either way, there's no denying the album, with stomping songs like Kiss the Canvas being stunning expositions of hard-hitting heavy metal, 2016 style. Ferry Templeton
5. Witchskull – The Vast Electric Dark (Own Label)
OK, so we might be biased – Canberrans Witchskull hail from the very same town as the mighty Sentinel Daily – but if there really was a better trad doom album released somewhere in the world this year than The Vast Electric Dark then we've yet to hear it. Wreathed in a comforting familiarity yet sweeping away the genre's many cliches with a freshness of delivery that belies the band's veteran status, TVED has that 'best in class' quality that few manage to attain. An absolute must-hear whether you count yourself a fan of doom or not. SA
4. Mucho Sonar – Rodents (Own Label)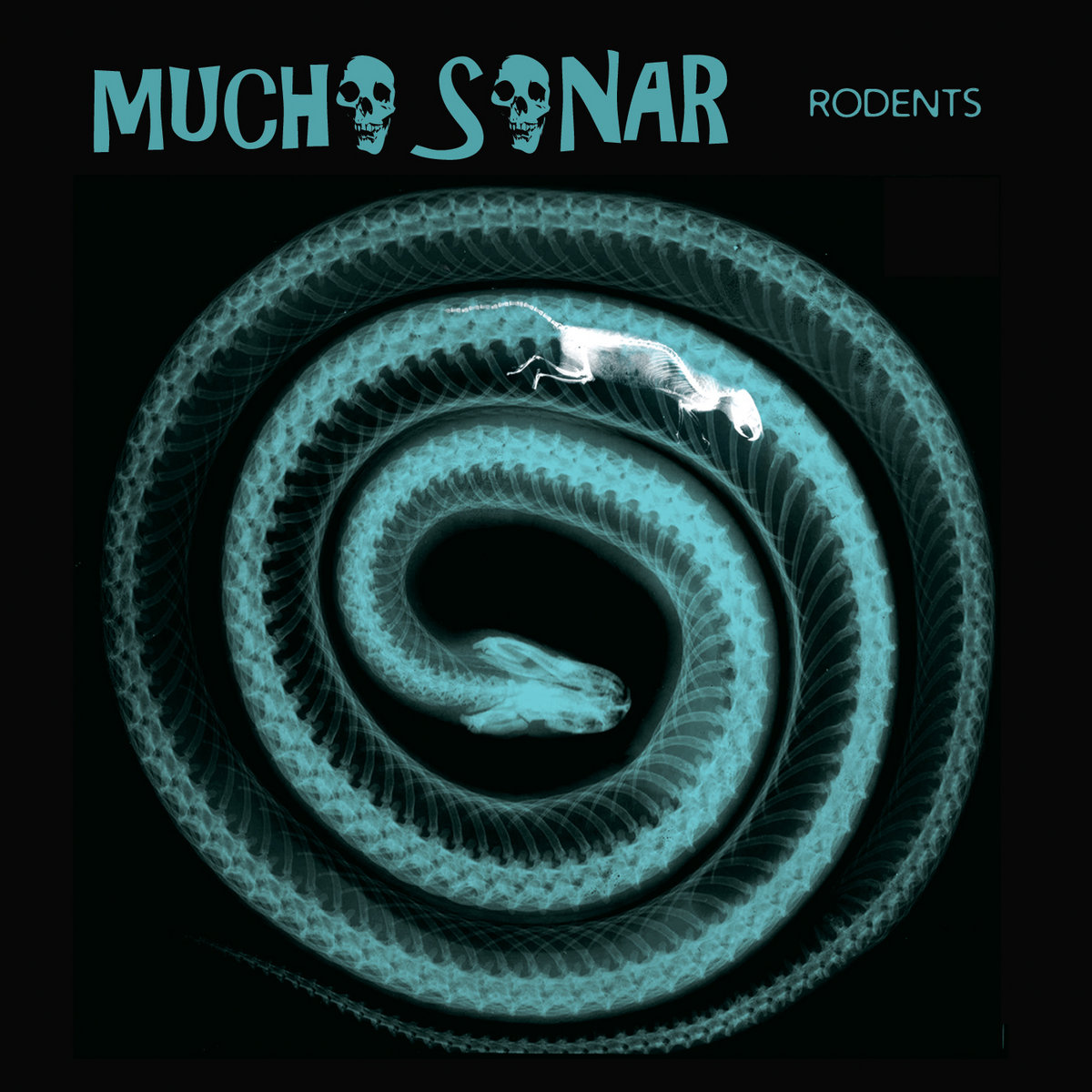 Featuring former Hell City Glamours axeponent Mo Mayhem – surely one of the finest men ever to draw breath – Mucho Sonar – who describe themselves as sounding like 'Motörhead plays Little Richard complete with face melting horn section'- delivered a diverting and diverse album this year in the shape of the beguiling Rodents. Whilst their self-diagnosis might well carry the whiff of prescience to it, there's far more to enjoy on the album, which runs the entire alternative music gamut across it's half-hour duration. That's not to say the record lacks focus, far from it – suffice to say if you like music – any kind of music – there's plenty here for you to enjoy. Tons of the stuff in fact. Another of 2016's must-haves. SA
3. Twelve Foot Ninja – Outlier (Volkanik Music)
Whilst debut album Silent Machine proved to anyone with even a cursory knowledge of stuff that Twelve Foot Ninja knew their onions, this year's Outlier is still a breathtaking exercise in shattering preconceptions. Demonstrably the same band that made SM for sure yet… Outlier is just absolutely more of everything that made us love them in the first place. More riffs, bigger riffs, yes, but those riffs serve merely to buttress the even better vocal performance of singer Kin, the even tighter rhythmatic crunch,  the stadium-levelling choruses, the… you get the picture. They've been busy, have the 'Ninja – busier than a cat burying shit in fact these last few years – and we are the lucky recipients of that back-breaking enterprise. If ever a band was ready to take on Faith No More's mantle as the emperors of alt.metal, it's Twelve Foot Ninja. SA
2. King – Reclaim the Darkness (Indie recordings)
Despite the glacial production, despite the grim-faced proficiency of the instrumental churn, despite the bleak, unforgiving facade of uncompromising kvlt, there's something heart-warming about King. This is a band you feel drawn to, drawn in by the lavish melodies they slather across their heinously tuneful black metal, which might well be informed by the collective works of Immortal, Satyricon and Dissection yet still  possesses an ineffable, at times brutish humanity with which even a hardened old git like me can identify. This sort of music isn't really designed as listening-for-pleasure music in the accepted definition of the word 'pleasure'. Yet Reclaim the Darkness remains one of the most pleasurable listening experiences you'll have if you'll only submit to it's serpentine charms. MS
Which leaves us with one album left – and the winner is…
Meshiaak – Alliance of Thieves (Mascot Label Group)
'I have seen the future of thrash metal'. That's what Scott Adams said in response to this album when he reviewed it for Sentinel Daily back in July and, six months later and despite a lot of trying to pull that statement apart, I can't find a shred of evidence to discredit it. Despite all the furor surrounding Slayer/Anthrax alumnus Jon Dette occupying the drum stool, Alliance of Thieves is very much the sum of it's constituent parts rather than the result of a superhuman performance by any one man. Danny Camilleri and Dean Wells are a new guitar duo for the thrash ages, both as shredders and songwriters, and if this unit – rounded out by bassist Nick Walker – can stay the course then you'd have to say that Alliance… is going to be seen as the start of something very important indeed. A well-deserved album of the year and no mistake. MS